What is a vertical mouse?
For the majority of people that use a mouse, you will typically use a standard horizontal mouse, but this is not the best mouse to use. It puts your hand and forearm in an uncomfortable position, which over time can cause wrist pain, rsi or even carpal tunnel syndrome.
A Vertical Mouse turns the mouse 90 degrees on it's side which avoids your forearm twisting and putting your hand in a very natural position. In my opinion the best vertical mouse by far is made by Evoluent (shown below)
Unless you have tried a vertical ergonomic mouse you will never appreciate the feeling of having your hand in a neutral position enabling you to use the mouse for longer without any wrist pain.
I used to use a trackball mouse, but my hand was still horizontal, your hand has to be vertical to be comfortable.
Evoluent Vertical Mouse
I have been using the Evoluent Vertical Mouse 4 for over 6 years every since I started getting pain in my forearm after using a normal mouse, a work colleague suggested trying a vertical ergonomic mouse.
I had never even heard of the term but literally 5 minutes after starting to use the Evoluent 4 mouse my wrist pain started to fade away.
Now that I work from home 5 days a week I am using my mouse so much more and could not live without it!
Evoluent vertical mouse 4 specifications
| | |
| --- | --- |
| Dimensions (Packed) (H x W x L mm) | 90x130x90 |
| Dimensions (Un-Packed) (H x W x L mm) | 90x85x110 |
| Weight (Packed) (kg) | 0.2 |
| Weight (Un-Packed) (kg) | 0.1 |
Best mouse for RSI & wrist pain: Evoluent Vertical Mouse 4
Take a look at this video from Evoluent as they can explain it much better than myself!
Now before I begin this review there are many many other vertical mice available to buy ranging from $12 to $150 and I will be listing some of the more popular one below, but first let me tell you about the Evoluent Vertical Mouse 4, which is the best computer mouse I have ever used.
The mouse itself is very sturdy and is more of a large block rather than a small mouse
It fits your hand perfectly and there is a little lip to rest your little finger on. It can also reduce finger pain as your fingers are always in a resting position.
All the buttons are aligned to your hand
It can be purchased in Left or Right hand models
They come in Wired, Wireless (with a dongle) or Bluetooth versions (battery life has to be considered, which is why I prefer a wired mouse)
There is even a small version
Scroll button is in a very comfortable position on the side of the mouse
I have been using the Right Hand Vertical 4 wired version and have been using the same mouse for the last 3 years for at least 6 hours every day and I can honestly say in my opinion "This is the best mouse for wrist pain" I have ever used, it also has reduced all shoulder pain and I use to experience tingling in my fingers, which has now also gone.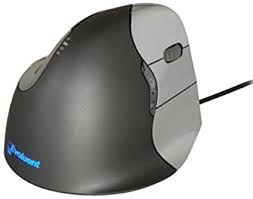 A lot of careful designing went into creating the Evoluent VerticalMouse 4 to ensure the ultimate hand and forearm comfort when using a mouse.
This model has a specially sculpted shape to conform to your hand and it offers many features for its cost including programmable buttons, top mounted LEDs, and controls for adjusting the speed of the pointer.
One great feature of this mouse is the convenient adjustment of the pointer speed. You can keep your grip tightly on the mouse and still control the optical sensor to your liking. Thanks to the top mounted bright LEDs you can get a good indication of the current pointer speed and the markings are designed to be simple to understand ranging from low to high.
In my opinion this is definitely the best ergonomic mouse for wrist pain.
With the help of Evoluent Mouse Manager, a neat application with an intuitive interface, you are able to program the buttons and control all the relevant settings with ease. The driver is not required for the mouse to work but it's highly recommended to download it so you can set-up the buttons according to your preferences.
While the price is a little on the expensive side, this is a true vertical mouse. The Evoluent VerticalMouse 4 will offer everything you can expect including superior comfort, user-friendliness, and reliable mouse performance. It's a matter of personal preference but the design is not that attractive compared to other models but if you only care about maximum comfort, this is recommended.
For more information please visit https://evoluent.com/
Best Mouse for Carpal Tunnel or RSI
Ergonomic mice are the perfect investment if you're starting to feel pain in your hand, wrist or shoulder or your hands hurt from mouse clicking.
RSI (repetitive strain injury) often develops in the wrist and tendons of the hand if you're using a standard mouse too often, in extreme cases this can also turn into Carpal Tunnel syndrome and I have seen real results of people with wrist pain so bad they were considering giving up working with computers. When this happens, it's time to give your mouse an upgrade and head into the world of vertical mice.
Best mouse for wrist pain
The Evoluent vertical mouse is in my opinion the best mouse for rsi and can certainly help reduce the symptoms of carpal tunnel.
Is this the best ergonomic mouse for arthritis? I can't say as I don't have arthritis, but I do know it has eased my wrist pain a lot, as arthritis is in the bones I don't think it's going to change much?
Please understand this is not medical advice and I appreciate there are people with serious conditions that cannot be cured just by changing your mouse, but in my case I completely eliminated my wrist pain by switching to this mouse.
Evoluent vertical mouse 4 driver
If you are looking for the latest software for your Evoluent Vertical Mouse – you can find them all here
https://evoluent.com/support/download/
Good use Ergonomics Guide for wrist and hand pain from working with computers.
So Are Vertical Mouses Better?
Once you have tried a vertical mouse you will never go back to using a normal mouse again. If you suffer from any kind of wrist pain, rsi or carpal tunnel a vertical mouse is the only way to keep using a mouse and not get any wrist pain, in my opinion they are better, but there are some cons which I will list below
Vertical Mouse Pros and Cons
Pros
A vertical mouse will reduce wrist pain
A vertical mouse will give you more precise control
A vertical mouse will reduce wrist movement
Cons
A vertical mouse is more bulky than a standard mouse
A vertical mouse is typically more expensive than a standard mouse
You will get asked "What is that?" a lot!!
It might be more expensive, but you should not be looking for budget options when it affects your wrist pain or rsi.
Best ergonomic vertical mouse
Whilst I personally prefer the Evoluent Vertical mouse, there are many other options to choose from, which vertical mouse is best is down to personal preference, you might be happy with a cheaper mouse, but really the only way to know is to try one out.
Microsoft Sculpt ergonomic mouse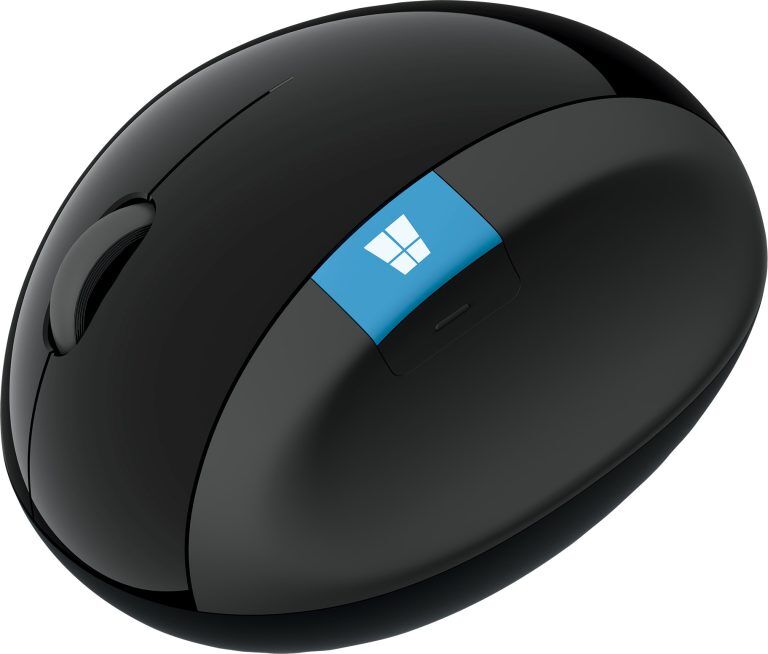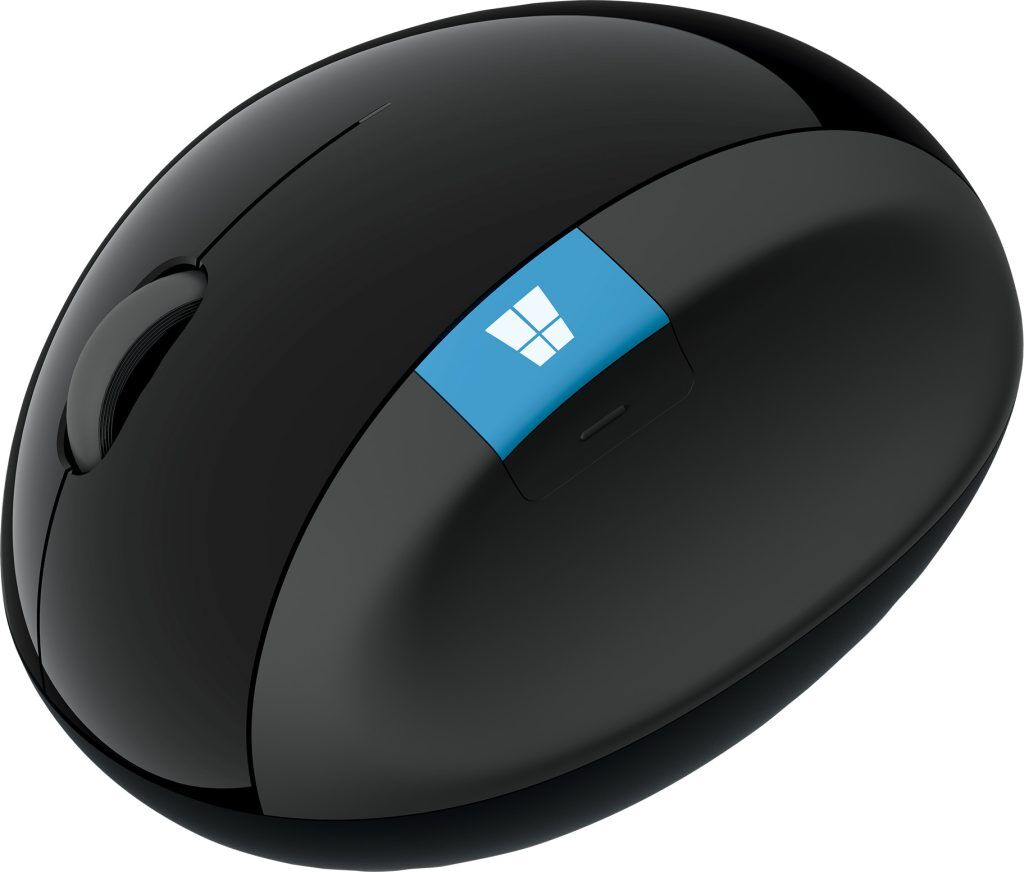 The Microsoft sculpt ergonomic mouse is another vertical mouse that I have tried, but the shape just did not suit my hand. It still felt very much like a traditional mouse for me.
Anker Vertical Mouse
If you want to try out a vertical mouse and don't want to shell out over $100 for an Evoluent there are many cheaper options and one of these is made by Anker coming in at $19.99.
I have not used this mouse so cannot comment on the build quality or performance, but for $19.99 why not give it a try?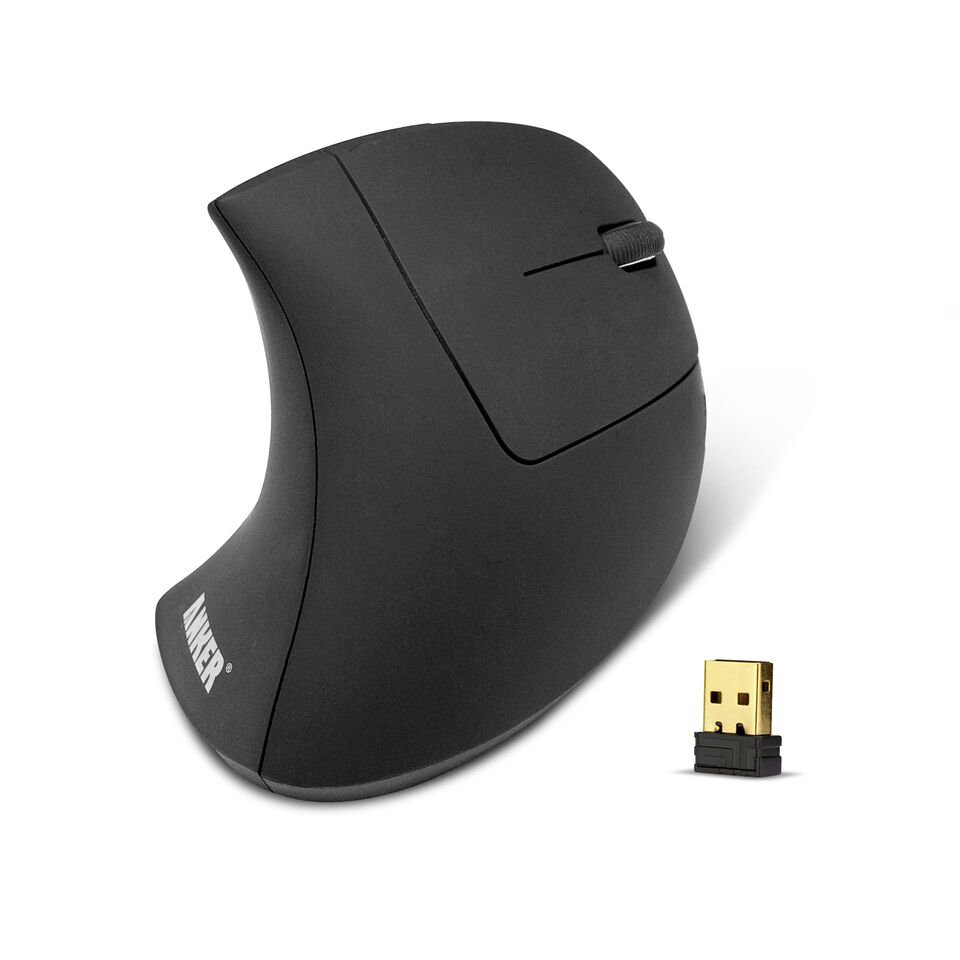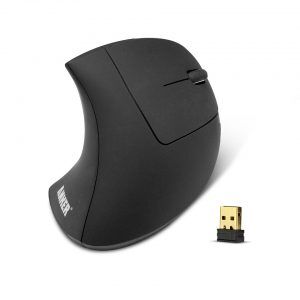 https://www.anker.com/store/2-4g-wireless-vertical-ergonomic-mouse/
If you were to compare the anker to the evoluent the evoluent does come out on top in many areas
Anker vs Evoluent
Evoluent comes in a left handed model
Evoluent is available in wired and bluetooth whereas the Anker only has a wireless dongle which takes up a usb slot
Build quality on the Evoluent is much better, you get what you pay for!
Cheapest Vertical Mouse
If you really want to get the cheapest vertical mouse you can buy I did find this one on Amazon from Lugulake for only £7.99

Conclusion
A vertical mouse is an ergonomic mouse designed to reduce the stress and strain on the hand and wrist caused by traditional, horizontal mice. These mice are designed to be held in a more natural, vertical position that is similar to the way the human hand is naturally shaped. This design allows for a more comfortable and relaxed grip, which can help to reduce the risk of repetitive strain injuries and other hand and wrist problems.
When it comes to choosing the best vertical mouse, there are a few key factors to consider. The first is the size and shape of the mouse. Some vertical mice are designed to be large and bulky, while others are more compact and streamlined. It is important to choose a mouse that is the right size for your hand and that is comfortable to hold for long periods of time.
Another important factor to consider is the type of sensor used in the mouse. There are two main types of sensors used in vertical mice: optical and laser. Optical sensors are more affordable and are suitable for most types of surfaces, but they are not as precise as laser sensors. Laser sensors, on the other hand, are more precise and are suitable for use on high-resolution surfaces, such as graphics tablets.
The number of buttons on the mouse is another important factor to consider. Some vertical mice have only a few buttons, while others have many. It is important to choose a mouse that has enough buttons to suit your needs, but not so many that they become confusing or difficult to use.
Wireless connectivity is also an important feature to consider when choosing a vertical mouse. Wireless mice are more convenient and flexible, as they do not require a cable and can be used with a variety of devices. Some vertical mice come with a USB receiver, while others have built-in Bluetooth connectivity.
Lastly, the design of the mouse is also an important factor to consider. Some vertical mice have a sleek and minimalist design, while others are more elaborate and feature-rich. It is important to choose a mouse that not only is ergonomic but also matches the aesthetic of your work or home environment.
In conclusion, the best vertical mouse is one that is the right size and shape for your hand, has the right type of sensor, has enough buttons to suit your needs, offers wireless connectivity, and has an aesthetically pleasing design. By considering these factors, you can find a mouse that is comfortable, efficient and fits your needs. Some popular and recommended brands for vertical mice are Anker, Logitech, and Evoluent.
If you are happy with your normal standard mouse and are not experiencing any pain when using it then don't worry, you are one of the lucky ones. But if like most people who use a mouse today you are experiencing pain with prolonged use, then I would highly recommend you try a vertical ergonomic mouse and you will notice a difference.
There are many alternatives to a mouse like joysticks and keyboards with rollers, but if you are experiencing wrist pain, start with a vertical mouse and see if your pain improves.
If you are looking for the best mouse for a macbook pro or best mouse for a laptop, I would just divert your attention to the best mouse for wrist pain.
Long term use of a mouse puts strain on your wrist and you only have one wrist, so invest in a good mouse.
The Evoluent 4 is not a gaming mouse, but if you do spend hours and hours playing Fortnite and are experiencing wrist pain, why not give it a go?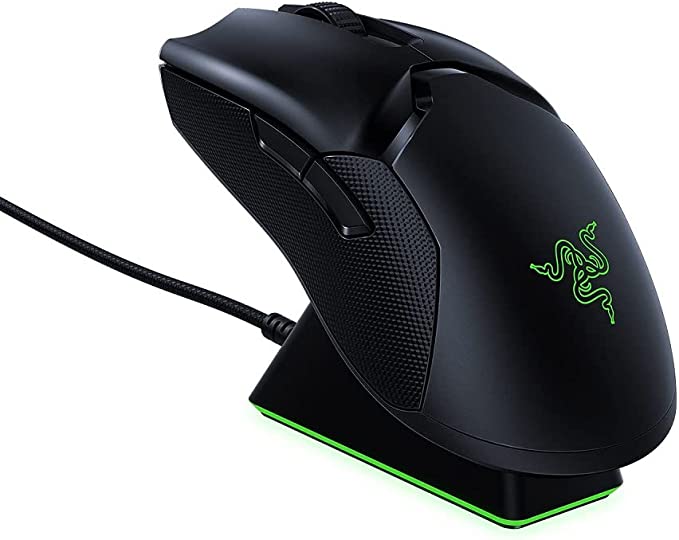 A very popular gaming mouse whilst not a vertical mouse is the Razer Viper Ultimate Wireless Gaming Mouse. The mouse is bluetooth and comes with a charging dock for great battery life.
Other Ergonomic Options
Now you are using the perfect mouse there are other options to consider to get the perfect desk setup. I would also highly recommend using a Foldable Laptop Stand for when you are working in coffee shops and different client sites, it elevates your laptop screen off the desk to a height where it is not causing you neck pain.
Read my review of the Roost Laptop Stand – Roost Laptop Stand Review
If you really want to go to town then I would also suggest you get a Standing Desk – My Standing Desk
Evoluent Keyboard
If you are using an Evoluent mouse then the perfect addition to your desktop setup is an Evoluent Keyboard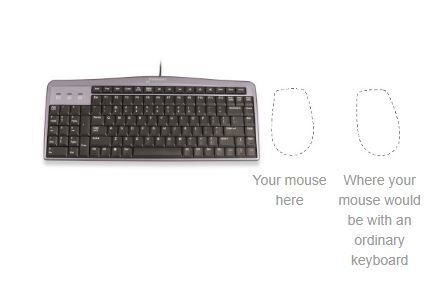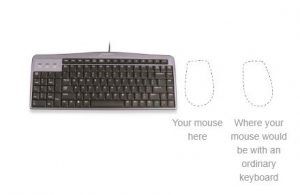 When keyboards were first invented the primary function was number entry, hence the number pad was on the right hand side, over the years the primary input method to a computer has become the mouse but the number pad still remains on the right hand side taking up valuable desk space where your mouse should really go. This forces your mouse position out to the right which can cause you pain and an uncomfortable mouse position.
The Evoluent keyboard addresses this problem by moving the number pad to the left hand side of the keyboard allowing your mouse to sit closer to the keyboard and giving your arm a more straight position instead of being pushed out to the right.
Ergonomic Mouse Pad

A quick search for ergonomic mouse pad brings up a host of options for different kinds of mouse pads with various pads and cushions to support your wrist, whilst I do not use an ergonomic mouse pad I cannot recommend one, so I would suggest you just try a few to see which one suits your position.
For me the Evoluent Vertical Mouse is the perfect height and does not require the use of an ergonomic mouse pad.
I hope you have found this Evoluent vertical mouse review useful and I hope it helps someone with wrist pain to try out a vertical mouse and reduce or in my case eliminate pain whilst using my computer.
Best Ergonomic Mouse Pad 2023
This is only my personal opinion and I am not a doctor or qualified in any medical capacity, but after spending years looking for the best mouse mat I discovered this one after working on a client site.
For me it is the best ergonomic mouse pad I have ever used. Sold as a gaming mouse pad the Logitech G240 is a very very thin large mouse pad which you don't even know is there.
It measures 340×280 mm and is only 1mm thick!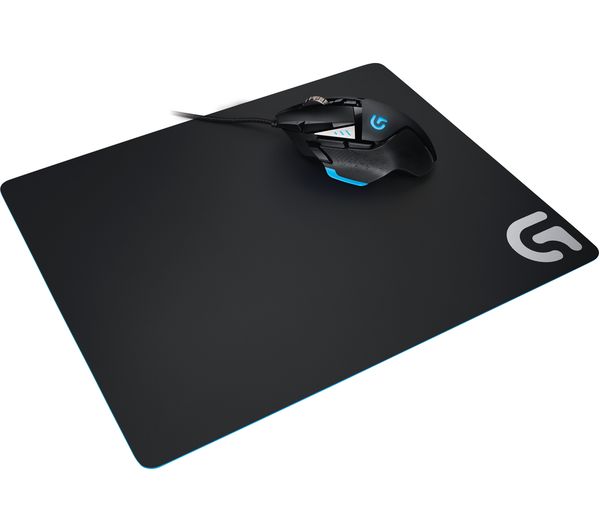 Related Searches
ergo mouse
best verticle mouse
best ergonomic mouse for mac
best ergonomic mouse for arthritis
erganomic mouse
Related Posts
Frequently asked questions
Is a vertical mouse better for carpal tunnel or RSI?
Using a vertical mouse places your forearm and shoulder in a more natural position. Like a handshake position this a neutral resting position which is the most comfortable position to hold a mouse. So a vertical mouse is much better if you are experiencing pain either from carpul tunnel, rsi or just wrist strain.
What is the best vertical mouse?
There are many choices when purchasing a vertical mouse, but I have used the Evoluent Vertical Mouse for the last 10 years and whilst it is the most expensive in my opinion it is the best.
How can you avoid discomfort when using a mouse?
By using a vertical mouse instead of standard mouse your hand, forearm and shoulder are in a more natural resting position which reduces any discomfort when using a mouse. So to avoid discomfort, try a vertical mouse!
Which mouse is best for your wrist?
This is a very personal preference and whilst most people are quite happy using a standard mouse, there is a lot of evidence that a vertical mouse places a lot less strain on your wrist and forearm and is more comfortable to use. I personally have been using the Evoluent Vertical 4 mouse for over 6 years because I was experiencing wrist pain from a normal mouse, and since I started using it my wrist pain has stopped. A vertical mouse places your wrist and forearm in a neutral position which puts a lot less strain on your arm and so using a mouse is more comfortable.