Laptop Stand for Desk
I was looking for a portable folding laptop stand as I have been starting to get neck pain hunched over my laptop all day. Working at home, in the office and on client sites I needed a laptop stand and it had to be portable.
The Roost Laptop Stand is what I found.
Roost V3 Laptop Stand
The latest version is now the Roost V3 Laptop Stand
Adjustable and Extremely Portable Laptop Stand – PC and MacBook Stand
I searched the internet for portable laptop stands and apart from the standard big blocks of plastic that fold up into an angle there was not much to choose from.
What I wanted was a collapsible laptop stand, that I could carry in my rucksack and use every day.
Then I discovered the Roost Stand. Funded from a Kickstarter campaign the roost stand is a highly portable foldable laptop stand made of carbon and high grade plastic it is small enough to fold up and go into your bag and strong enough to support a mac book pro.
The rooststand has actually been tested to support 132 lbs so it is certainly strong enough, so what does it look like?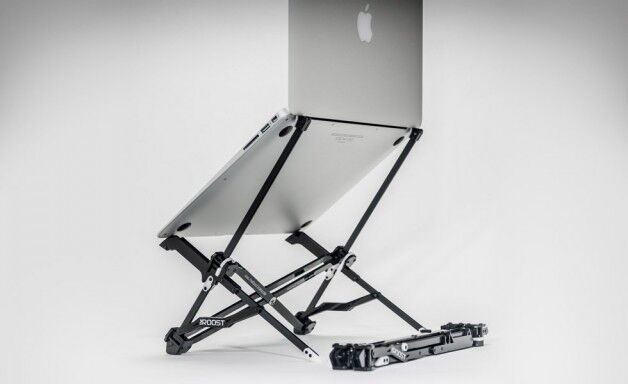 Pictured here you can see Roost Laptop stand open and supporting a mac on the left and folded up on the right. It has to be one of the best mac laptop stands you can buy.
If you are going to spend $1000 + on a mac then you need to make sure the laptop stand you purchase is up to the job and the Roost does not disappoint.
You may think that the Roost Stand is going to be expensive but it retails for $85 for the black version and $90 for the silver version.
Currently it only ships from the US but shipping costs are low because it is so light.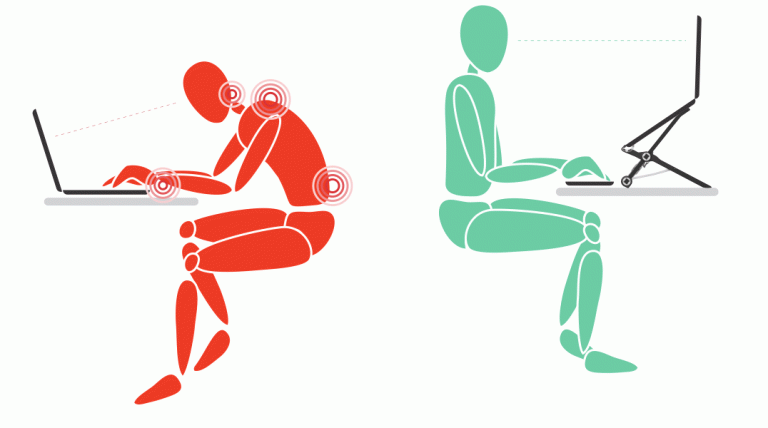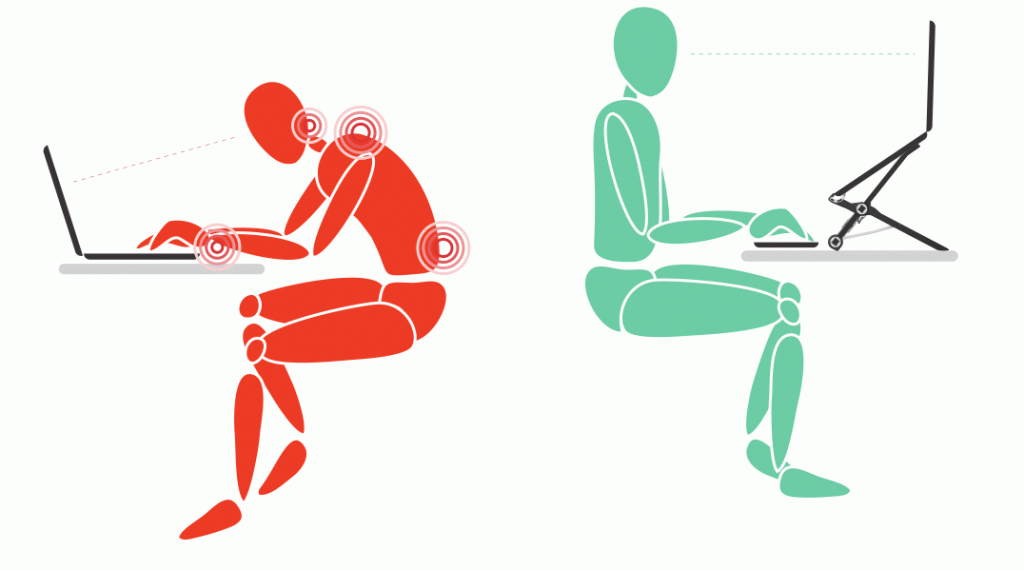 Take a look at the video below to see the Roost stand in action.
The Rooststand is not only for Macs but it will not work for every laptop, it only works with a laptop that uses a clam shell hinge. There is a full compatibility list on the website and if you are not sure just email the guys at Roost and they will come right back and tell you if your laptop will work with the stand or not.
Portable Folding Laptop Stand
Another requirement for my laptop stand was that it had to be portable. The Roost stand folds very small and comes with a carry bag – it just fits in your rucksack and weighs hardly anything. This has to be the best portable laptop stand on the market.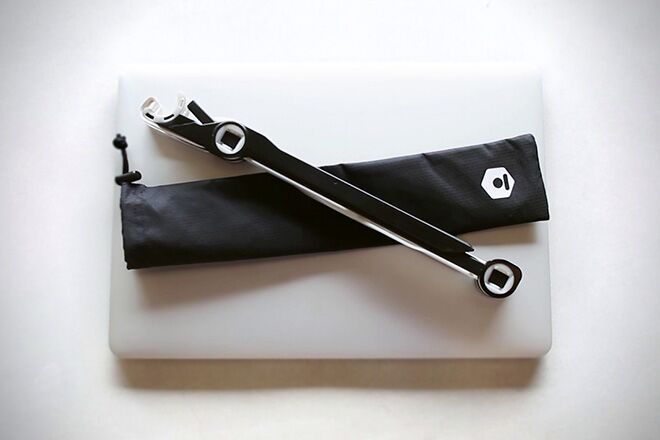 Roost Stand Discount Code
Right now If you enter the code roost15off at checkout you will get 15% discount.
You can't knock the Roost too much because it is what it is. It's designed to be a portable laptop stand—one you fold up when you're not working. The fact that it's small and light when collapsed (1″ x 1.5″ x 13″/2.5cm x 3.8cm x 33cm, at 6.5oz/183g) means you can essentially take your stand—or your standing desk—anywhere you go. It's not the cheapest portable laptop stand you can buy but if the flexibility to stand or sit and the portability appeal to you, it's worth checking out. It also comes with a lifetime warranty and a 90 day money back guarantee, you can't say fairer than that.
So where do you buy it from?
You can only buy it directly from Roost – https://www.therooststand.com
You used to be able to buy the Roost Stand on Amazon but this no longer seems to be the case.
Roost Stand Amazon
You can now buy the Roost Stand v3 directly from Amazon
Roost Stand Review
I can honestly say this is the best folding laptop stand I have ever owned (to be honest there aren't many to choose from!) and I take it with me everywhere. I am always asked what it is and where do you buy it from and I am always happy to spread the word of the Roost Stand.
It is the perfect laptop stand for desk use but I use it more in Starbucks than at my desk! Because it folds down so small you can just pop it in your rucksack and take it anywhere you want. All you need is a keyboard and mouse and you have a complete mobile office and work wherever you want.
I can work for hours without any neck pain because you are not looking down at your laptop, the screen is at the correct height so your neck is in a neutral position.
If you were looking for a dj laptop stand I don't think this would be entirely suitable as you can't really control the laptop whilst it is on the stand it is really just to hold the laptop at correct height and for you to use a keyboard and mouse to work. DJ Laptop stands tend to be much more bulky and able to support the laptop in a flat manner so you can control it directly.
Roost Laptop Stand Alternative
Or you could just make your own from cardboard?!
https://mashable.com/2012/10/13/cardboard-laptop-stand-diy/
There is another folding laptop stand that has appeared on the market and I am not sure if it is a direct copy of the Roost Stand or a competitive product? It looks very similiar and is selling for less online – what do you think?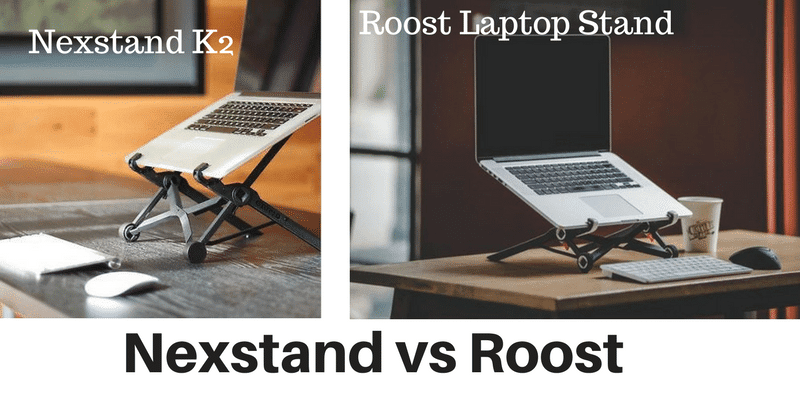 Roost Stand vs Nexstand
The Nexstand is currently retailing for $29.95 on Amazon
The Roost Laptop stand retails for $84.95 – right now.
The Roost is the original and I have only just started to see the Nexstand and it comes out of China. This appears to be a copy and not as good as construction as the Roost.
It does look very similiar to the Roost indeed – so you pay your money and take your chance.
As for comparisons, the Nexstand is 30% bigger and 50% heavier, making it quite bulky to carry conveniently, it barely fits in a bag. It also has none of the elastic/silicone gripping materials, so the laptop will slide around within the stand and on the desk. Roost comes with lifetime gaurantee/warranty, and it is made in the USA 🙂
I will be sticking with my Roost as in my opinon it is the best portable laptop stand I have every owned and have been using it every day for the last 2 years without any problems at all
Laptop Desk Stand Ikea


Ikea do a very good range of laptop stands for your desk, but none of them are portable. They are all solid
Folding Laptop Stand for Bed
If you are looking for a folding laptop stand for bed, this is a completely different subject as you need a lot bigger stand. I would suggest this one from .
Roger