Red Special Replica Guitar Build
In December 2020 I came across a book entitled
Brian May's Red Special: The Story of the Home-made Guitar that Rocked Queen and the World
Whilst I liked the music of Queen, I never realised the history of Brian Mays Guitar and the fact that he built the guitar with his father and created a one of kind original guitar that has shaped the music of Queen for over 50 years.
So after reading the book I decided to start my journey to build my own Red Special Guitar Replica!
This started with a trip to B&Q where I purchased the materials to make the blockboard for the body.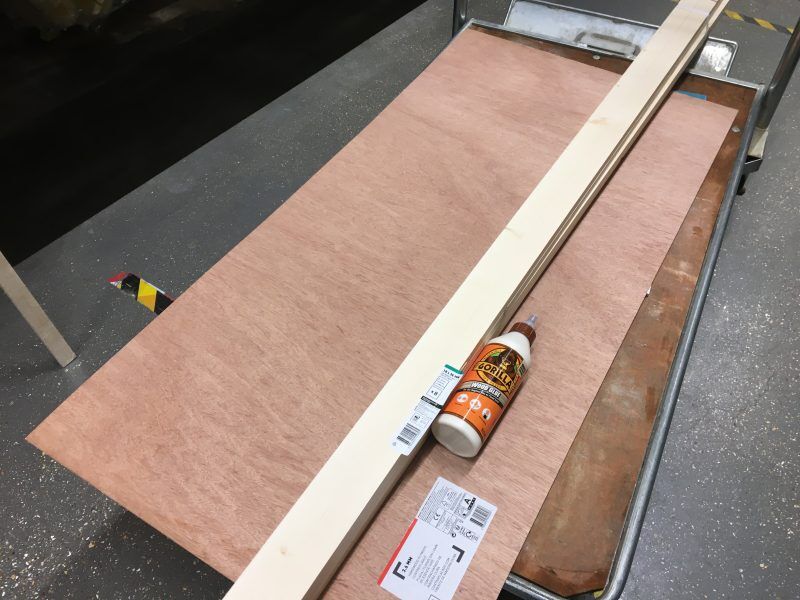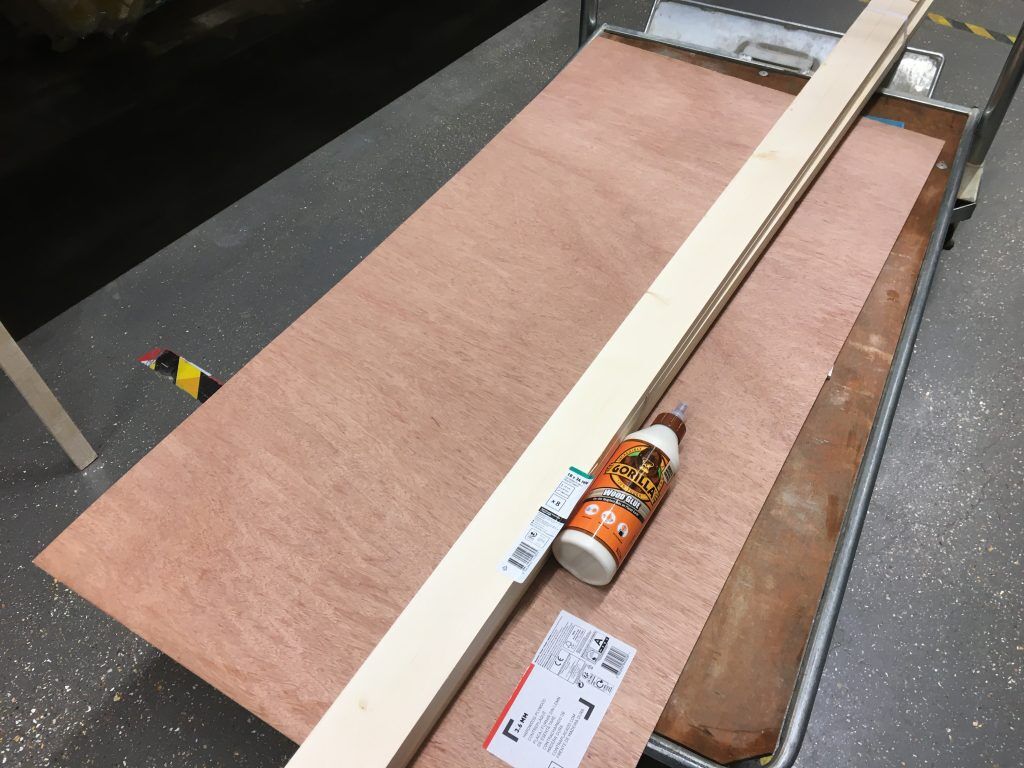 I have never built any kind of guitar before and my woodwork skills consisted of shelves, wooden box, decking and a garden office. This was going to be a journey. A year later I had managed to create what you see below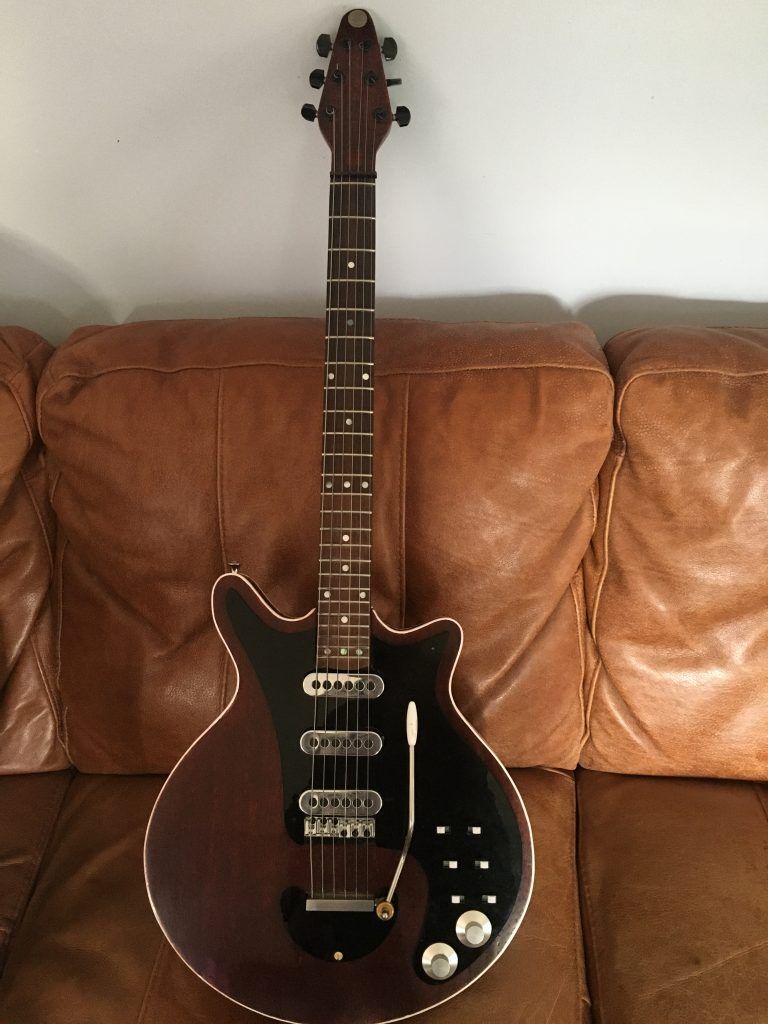 It's still not 100% finished but does play very nicely! It is not a 100% true original red special replica guitar in that I decided to use black tuners and not pearl and the bridge is not an original bridge, but other than that is the original blockboard construction, with mahogany veneer and mahogany neck (from an old snooker table) the pickups are from Yonderbosk and are true replicas of the original Burns TriSonics.
Scale length: 24″ (610 mm) Number of frets: 24
The colour is closer to the original and not the antique cherry used on the BMG replicas.
Red Special in case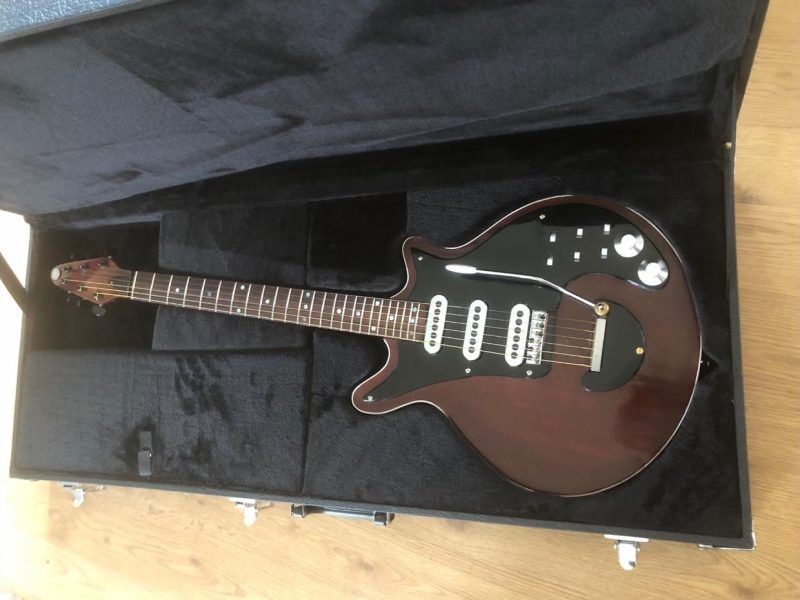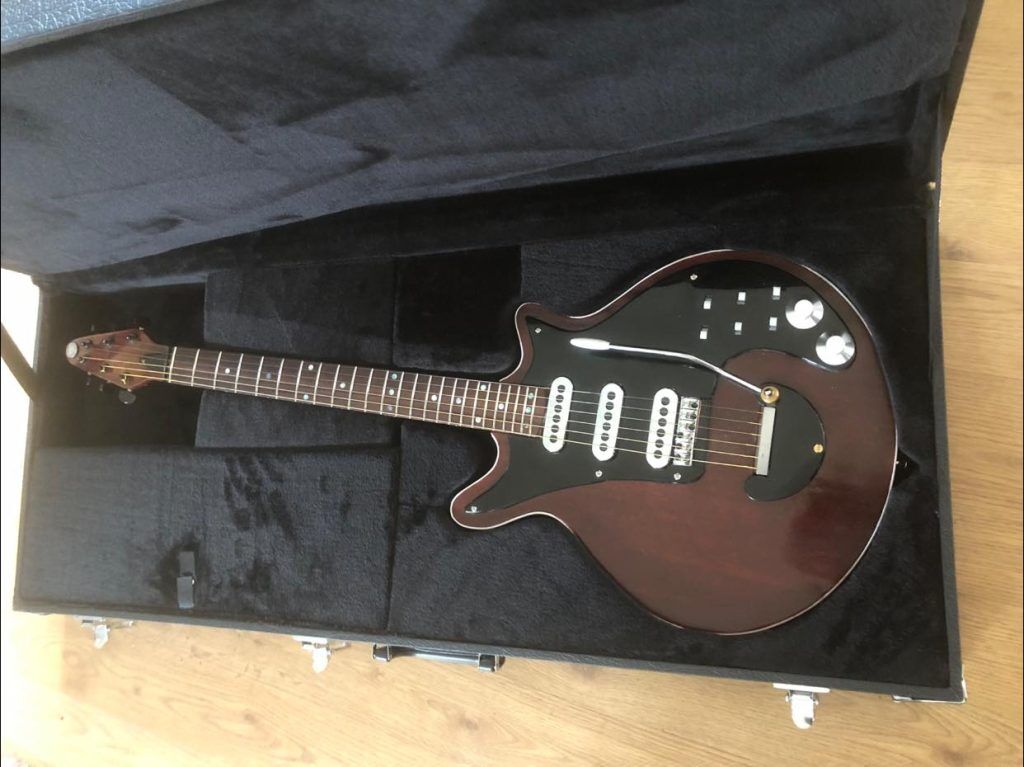 I am very pleased with the outcome and during the process joined the UK Red Special Group and last October got to meet many other people who have also made their own Red Special replicas!
Red Special Replica Price
The total cost for me to make this guitar was probably around £1000, however this did include the purchase of some tools I needed like a Router and some files and router bits. If I were to make another it would probably cost about £600 in materials and hardware. You also need to add to that the year it took me to make it! I cannot even consider how many hours I spent on it, but in between work and family I made this guitar between December 2020 and December 2021
Red Special Construction
The Red Special is made from a variety of materials most of which were found around Brian Mays house! The main part of the body is a block of oak, surrounded by a blockboard body, the neck is made from a Mahogany fireplace and the body of the guitar is covered in a Mahogany veneer.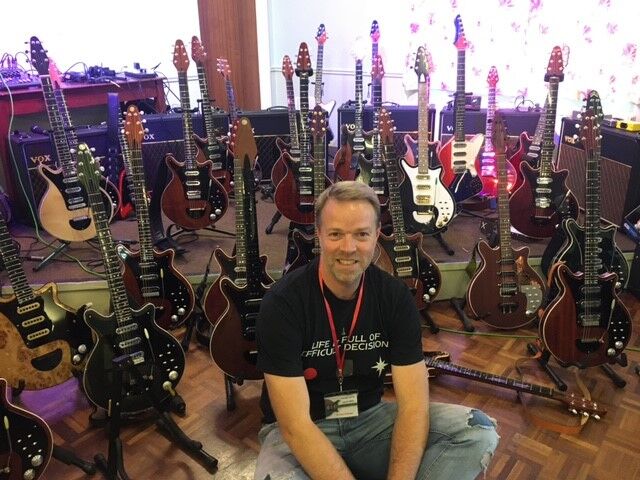 How many RS guitars can you see? So much inspiration here if you are looking to build an authentic Brian May red special guitar.
Brian May Red Special Original
The Red Special is a guitar that was built by Brian May, lead guitarist of the rock band Queen, and his father Harold May in the early 1960s. It is often referred to as the "Fireplace" guitar because of the materials used to construct it. The guitar neck was made from a piece of mahogany from a fireplace mantel, and the body was made from a piece of oak and blockboard from an old table.
The Red Special is known for its unique sound, which is characterized by a bright, resonant tone with a strong mid-range. This is due in part to the guitar's construction, as well as the various modifications that Brian May made to it over the years. One such modification was the addition of a Burns Tri-Sonic pickups, which helped to enhance the guitar's sustain and tone.
Construction: Mahogany Neck & Original Tremolo
The guitar is also recognizable by its distinctive design. It features a red finish, which was made from a stain of Mahogany. The guitar also features a tremolo system which Brian May designed and built himself from motorbike valve springs.
Throughout his career, Brian May has used the Red Special as his primary guitar, playing it on many of Queen's most famous songs, including "Bohemian Rhapsody," "We Will Rock You," and "We Are the Champions." The guitar has become synonymous with his iconic guitar sound and his place in rock history.
In recent years, Brian May formed Brian May Guitars to reproduce the guitar and make it available for the fans and musicians alike, BMG are making the Red Special and other Brian May's signature models.
https://shop.brianmayguitars.co.uk/
In conclusion, The Red Special is a legendary guitar that has played a vital role in the history of rock music. Its unique sound, design and the story behind it's making make it an iconic instrument, and it will always be associated with Brian May and the band Queen. It's availability for purchase now makes it possible for musicians to own a piece of rock history.
Frequently asked questions
Is the Red Special a good guitar?
This all depends on what your definition of a "good guitar" is! For Brian May it's the best guitar in the world, for others it might not be so. It's certainly a very different guitar, it's construction is very unique, the neck is very thick and it feeds back very well (in a good way) due to the design of the air pockets in the guitar. If you want to play Queen it is a great guitar!
What type of guitar is the Red Special?
The Red Special is a unique guitar designed and built by Brian May and his father Harold May, it has a blockboard body with a Mahogany neck, which is set in and has chambers for feedback. You can now buy replica guitars from BMG Guitars a guitar company founded by Brian May.
How much is Brian May's Red Special Guitar worth?
Brian May says that his original guitar cost only £17.45 to make as most of the materials were what he found around his house. The actual value of the guitar is unknown and Brian May would never sell it. I think the answer is priceless. The Red Special is not actually insured as Brian May say he could not put a value on it and whilst he has many very close copies of the Red Special none of them play and sound like the original. Maybe that has also something to do with the fact that he made it with his father and it's the only guitar he has played pretty much at every Queen concert and recording for over 50 years!
What is the Red Special made of?
The body of the Red Special is made from Blockboard which hollow chambers for the electronics and for feedback. The neck is Mahogany, which was an old fireplace with an oak fingerboard painted black to look like Ebony! The body is covered in a Mahogany veneer with white plastic binding which was made from shelf edging. It's finish is Rustins plastic coating. The frets on the guitar are actually the original frets Brian May installed over 50 years ago. The Red Special has never been re-fretted!
How many frets does the Red Special have?
The Red Special has a 24″ scale and 24 frets. It also has a zero fret so open strings are not resting on the nut but rest on the zero fret which is supposed to give an open string the same tonality as a fretted string. So the Red Special actually has 25 frets.
Does Brian May still use the Red Special?
Yes! Over 50 years after making the Red Special with his father Brian May still plays the guitar on every live performance. Which is an incredible testament to the build quality of a homemade guitar that he made in his spare room with his father Harold May.
Why does Brian May's guitar sound different?
The Red Special the homemade guitar that rocked the world is Brian May's main guitar and has been for over 50 years. It has a unique sound which comes from the fact that the guitar whilst being an electric guitar has hollow parts in the body which helps it feedback in a good way, it also has a unique 6 switch system that allows you to put any pickup in serial and in our out of phase with the other pickups.