How to build CCIE V5 Lab using ESXi and Cisco Cloud Services Router CSR 1000V
This post will detail how to build a CCIE v5 lab using Vmware and the Cisco CSR1000v cloud services routers. It will detail the issues I faced which should hopefully help you make this build a lot easier.
The basis of this topology is centered around the INE Hardware build which is detailed here – INE CCIE V5 Hardware Topology
In simple terms you are going to build a VMWare ESXi server and run multiple instances of the Cisco CSR1000v router – this can be connected to some physical switches and you can have a 20 router / 4 switch topology that will provide for all your labbing needs. This post is focussed on the router build only and a later post will focus on the switch build and connecting them together.
Virtual Rack – Shopping List
To build your virtual ccie rack you will need:
1 x server or high power desktop with at least 16GB ram for 10 routers and 32GB ram for 20 routers
1 x Cisco CSR1000v ova file
1 x VMWare ESXi 5.1
If you really want to know what is going on I recommend reading the CSR100V configuration guide
Server or High Power Desktop
I have built this out twice now. Once on a high end DL360 G8 server and the second time on a Dell Optiplex 790 desktop. Once they are built and up and running there is no performance difference in the two boxes. So I would recommend unless you have access to some big servers then a good desktop PC is more than suitable.
Which ESXi version to use for ccie lab setup?
For the purpose of this tutorial and my home lab setup I am using ESXI 5.1 This is based on the fact that I have tested this and it works. I tried to use ESXi 5.5 but got hung up with the web client so went back to 5.1 and the install and setup worked without a problem. As they say, if it ain't broke, don't fix it!
Cisco CSR1000v
You will need a copy of the Cisco CSR 1000v virtual router this can be downloaded from the Cisco Website
Information about the CSR Router – www.cisco.com/c/en/us/products/routers/cloud-services-router-1000v-series
Download link – Cisco CSR 1000v download
You will want to download the OVA file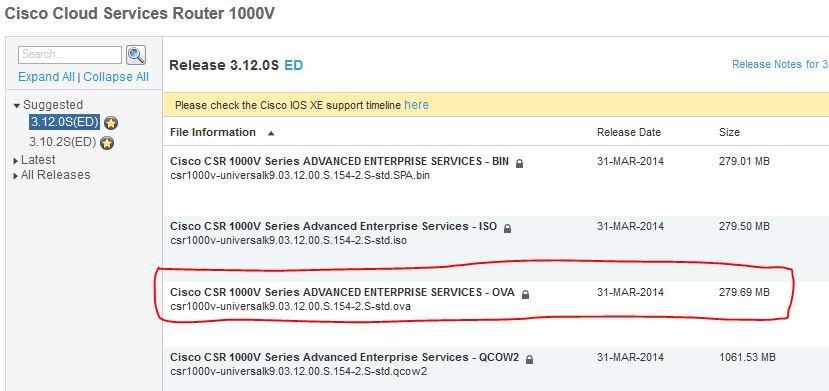 A few people have asked me about the Cisco CSR 1000v price. For lab use you can download and use the router for free, it will run with a limited bandwith but that is fine for just labbing. If you want to use it in production then you need to purchase a license which will increase the throughput of the cloud services router.
CSR1000v requirements are very straightforward, as it is a Virtual Machine your server just needs to support multiple versions of the router, each router requires the following:
4 Virtual CPUs
4GB RAM (you can run with 2GB)
8GB Hard Drive
1 x VMWare ESXi 5.1
You can use VMWare ESXi 5.5 ( I have not tested) but for the purpose of this document I am using 5.1
Download a copy of the VMWare ESXi 5.1 Hypervisor from here
You will need to create an account to download.
Installing VMWare ESXi
Now you have everything you need to install the hypervisor onto your chosen platform. I am not going to detail installing the hypervisor but if you want a good tutorial there are many good tutorials out there. In simple terms make a bootable USB stick, copy the ISO file onto your USB stick and put into your server / desktop and boot the hardware from the USB.
The only two pieces of information you are going to need to provide is a password and an IP address.
For the purpose of this build my IP is 192.168.1.1
So you should now have your VMWare ESXi hypervisor up and running and once logged in should be looking at a screen like this.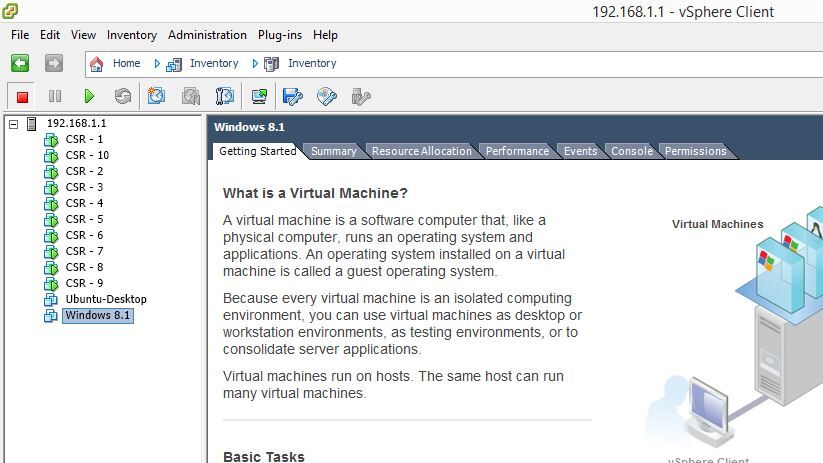 Yours will be empty so we will now go through the installation of the Cisco CSR1000v router.
Installing the Cisco Cloud Services Router – CSR1000v
From the VMWare client click on File / Deploy OVF template
Browse to the location that you saved your CSR1000v installation package
Click Next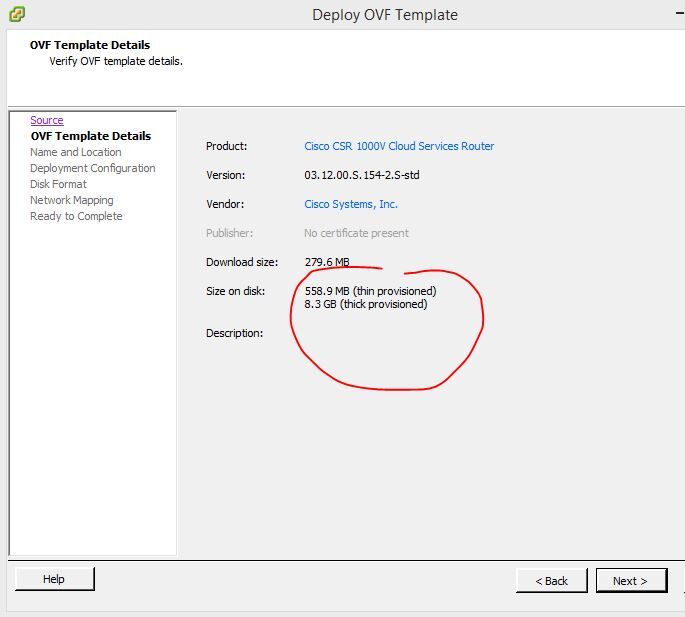 Notice the Size on disk: If you deploy this router as Thick Provision it will require 8.3GB of disk space. Most of this space is unused. If you deploy as Thin Provisioned it will only take the disk space required but it will grow. This is selected later on. Click Next

Now give your router a name – this is used to identify all your routers so make them unique i.e CSR-1, CSR-2, Click Next

For the purpose of a virtual ccie rack you have two choices, Small or Medium
Small – 1vCPU, 2.5GB RAM
Medium – 2vCPUs, 4GB RAM
Again this is all dependent on your hardware platform. On the Server I selected Medium and on my PC install I selected Small.
Once the router is running, it actually uses <1GB of RAM but it does need a bit more to get started.
Select your Configuration and Click Next

This screen is where you select Thick or Thin Provisioned
Use Thick Provision if you have lots of disk space
Use Thin Provision if you don't
I used Thick provision on the big server install where I had lost of disk space
I used Thin provision on my PC install
Both work
Basically Thick provisioned allocates a larger chunk of disk space which will not grow, and thin provisioned allocates a smaller amount of disk space which can grow. For a typical 20 router ccie virtual rack you should be fine with a 128GB drive – SSD is better if you can. Select your choice and Click Next, Next again and then Finish
Your router will now be deployed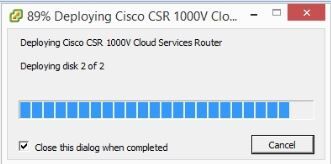 Virtual Serial
On your vSphere Client you should now see your newly deployed router it will not have green arrow beside it because it is not powered on.
Before you power the router on we are going to add a Virtual Serial Port
Right Click on your router and select Edit Settings – then click Add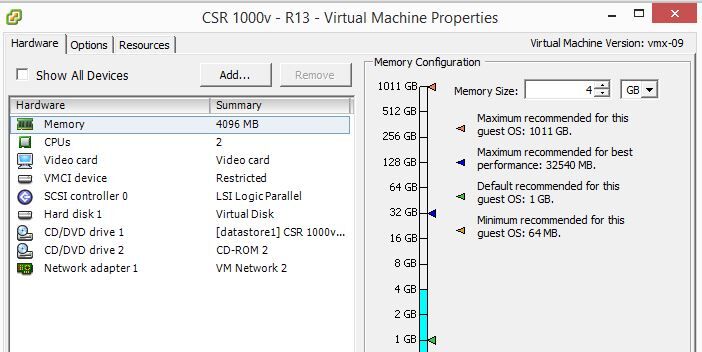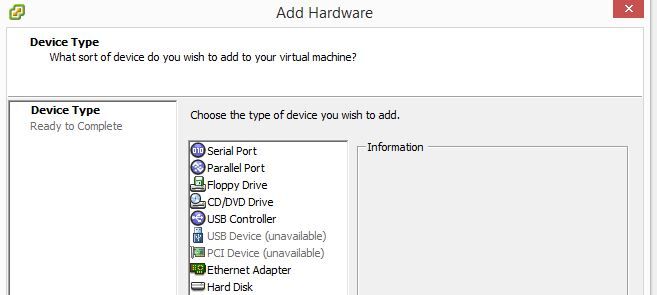 Click on Serial Port and Click Next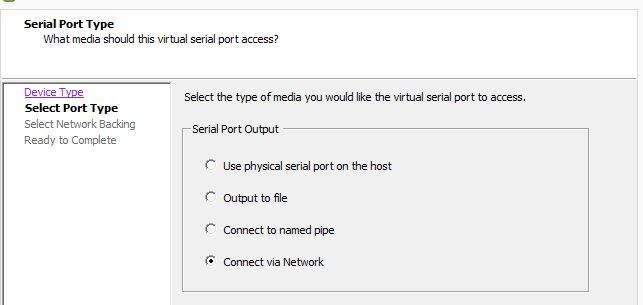 Select Connect via Network and click Next
You need to change Network Backing to Server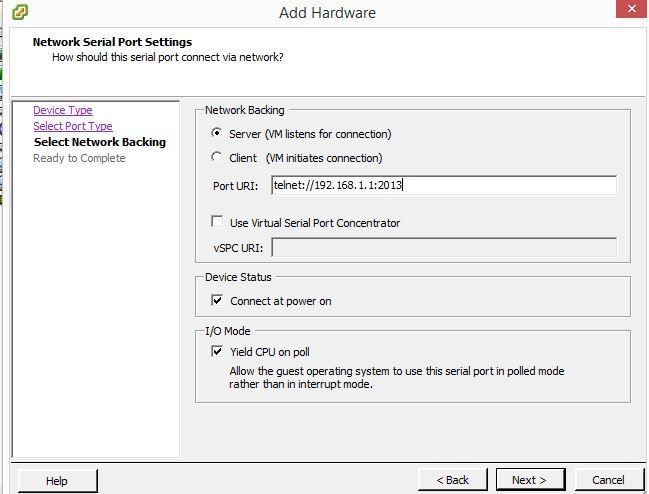 In the Port URI add telnet : // server-ip:port
In my case I would configure telnet : // 192.168.1.1:2013
Ensure Connect at power on and Yield CPU on poll are ticked and click Next then Finish
Enable Serial port over Network in ESXi firewall
By default the ESXi server will block access to the VM Serial port over network. You need to enable this in the Security Profile.
Click on your Server and then click the Conguration tab and then properties

Scroll the window down a bit until you see VM serial port connected over network – it will be un-ticked – Tick this box and click OK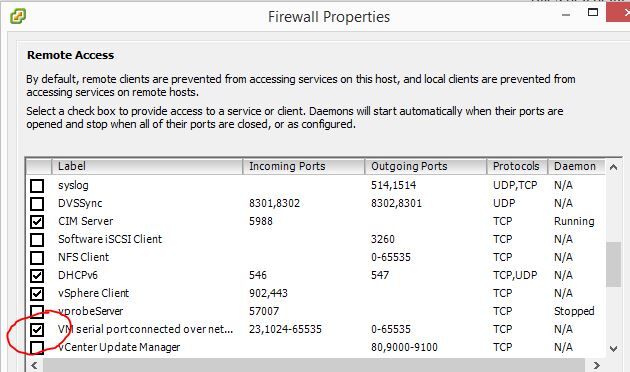 ESX Server License Type
NOTE: In order to be able to use the VM Serial Port functionality for your CSR Rack you will need the Enterprise License.
If you are using the 60 day trial license for ESXi this will be enabled.
To check your license version log into your ESXi server and click on Configuration/Licensed Features.
My server is running the VMware vSphere 5 Enterprise Plus Licensed for 1 physical CPUs (unlimited cores per CPU)
If your server does not show Enterprise then your telnet to the routers will not work.
You can now power on the first Virtual router in your ccie virtual rack.
Powering on the Cisco CSR 1000v
Right click on your router and select power on. You should now be able to connect to your router using your chosen terminal client and see it boot up.
Be patient as the first time you boot the router it will take quite a few minutes to start.
I hope you enjoyed the first post on how to build ccie v5 lab
I am now focussed automation, please check out my posts on Network Automation using Ansible & Python