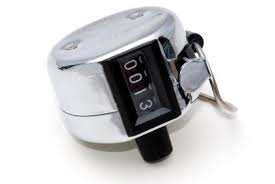 If you are trying to find out how many CCIEs there are in the world, you might find that these statistics are not readily available. Now why would Cisco want to stop publishing the figures for how many people are passing the CCIE? I am not sure but there are many theories, are there not enough people passing the exam, So lets look at the current figures, the latest CCIE numbers of recently passing candidates are now over 41000. That means that since September 1993 when the CCIE programme started over 41000 people have passed the exam.
Cisco do publish some statistics at Cisco Live and I have found some more numbers from a presentation in March 2013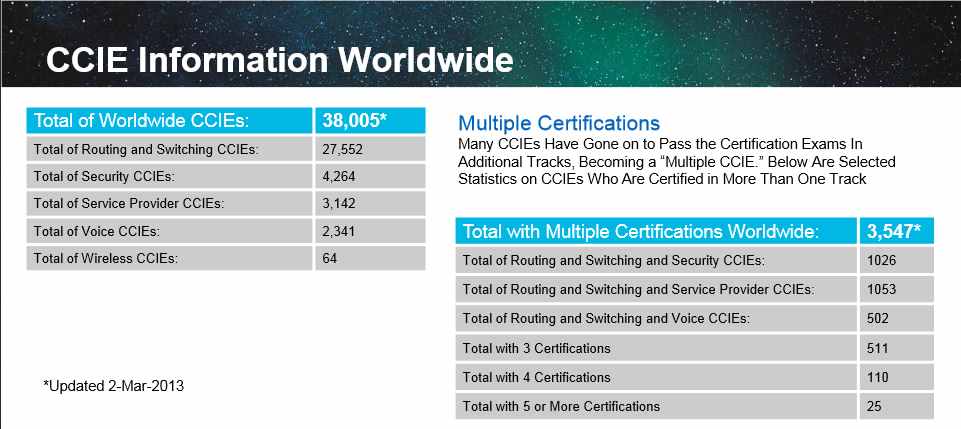 Now these figures say there are 38005 CCIEs in the world. The figures that really interest me are the number of people with more than one CCIE. For example there 502 Routing & Switching and Voice CCIEs in the world.
Only 25 people have more than 5 CCIEs and there is of course only one person in the world who has 7 CCIEs Neil Moore
This only goes to prove that the CCIE is quite an exclusive certification. I suppose another reason is the sheer cost of trying to pass it with most candidates making an average attempt rate of 2-3. Each attempt costing $1500 plus travel, plus all the training costs plus all the time required to study for this exam.
It does show dedication and something that proves you are prepared to dedicate some time and effort to becoming a CCIE
Brad Reese has also done a great post and made it his mission to keep up to date with the figures.
www.bradreese.com/blog/ccie-5-25-2010.htm
If you are serious about you CCIE journey then I would recommend checking out a couple of my other related posts.
How to become a network engineer without experience or a degree
How many CCIEs are there in the world in 2019?
In 2019 the number of CCIE's awarded since the programme started went over 60,000. However this is not to say that every CCIE has maintained their certification. Some may have let it expire and others have taken emiritus status, which you can do if you have held a CCIE for over 10 years. The exact number of active CCIEs in 2019 is a very hard number to pinpoint and Cisco does not actually publish the exact figures.
Enjoy your studies!
Roger